A Visit to the Global Seed Vault: Part I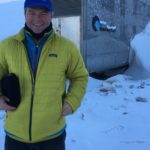 Who visits Svalbard the Norwegian archipelago 600 miles north of the Arctic Circle?  In the 1800s, it was Russian walrus hunters and Dutch whalers.  In the 1900s, it was coal miners who left visible scars on the fragile landscape still visible in 2018. Today, those filling our plane from Tromsø on a blustery February day are adventure seekers, Norwegians visiting their most remote outpost and scientists staffing the research stations to study the effects of climate change on the polar ice.
But one other group makes the flight to Longyearbyen – representatives from the world's seed banks: officials charged with safe guarding the genetic resources on which all human life depends.
Svalbard is home to the Global Seed Vault, perhaps the world's most vital storehouse, the depository of our evolutionary history for food crops.  It began in the late 90s as an idea of Cary Fowler, a visionary scientist from Tennessee then working in Rome on international genetic protection.  Working with Norwegian counterparts, he helped bring into reality the dream of creating a secure seed storage vault deep inside a remote Arctic mountainside to serve as a depository for the seeds being held around the world in hundreds of national and international gene banks.
The Vault, opened in 2008, serves as the world's genetic back-up – the place where depositors send duplicate sets of the seed varieties they store locally.  Today, the vault has received deposits of over 1 million distinct plant varieties representing a significant portion of the world's food crops. Seeds have come from gene banks in over 100 nations, including thousands of varieties from USDA's National Plant Germplasm System in Ft. Collins.
Iowans should be proud to know the only private non-governmental organization or NGO with the foresight to place seeds in Svalbard is our Seed Savers Exchange or SSE from Decorah.  As a long-time board member of SSE, it was a special thrill to receive Cary's invitation to come to Svalbard as SSE made our latest deposit on the vault's 10th anniversary.