Past Conferences and Events
Immigration, Labor, and Agriculture: Facts, Fears, and Filling Jobs
October 23, 2019 – 5 pm – Kern Commons, Drake University Law School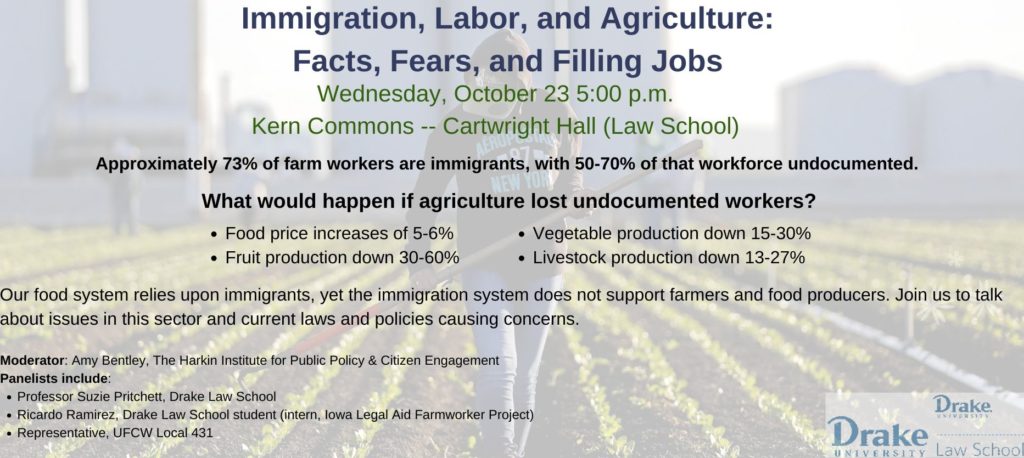 SOIL 2019: Searching for Solutions for Iowa's Land and Water
November 4, 2019 – Information on SOIL 2019 Event Page
SOIL 2017: Sustaining Our Iowa Land
On July 27, Drake University hosted SOIL 2017-Cultivating Your Investment: Landowners and Stewardship.  This one day event was designed for landowners to share their experiences and learn about how to protect their land, care for the  soil and water, and look to the future of their farmland.
SOIL 2017 was sponsored by the Drake University Agricultural Law Center, Farmland Stewardship Solutions, the Iowa Water Center, Iowa Natural Heritage Foundation, the Leopold Center for Sustainable Agriculture, and The Nature Conservancy.
The 2017 agenda can be found here and videos can be found here.
Climate Change Workshop
On April 14, 2016, the Drake University Agricultural Law Center organized and hosted a discussion about climate change and Iowa agriculture.  This workshop, which included over 45 stakeholders, explored how Iowa agriculture can respond to these challenges and opportunities critical to our future. Resources gathered and shared from this workshop are available here .
The workshop was supported by the ISU Leopold Center for Sustainable Agriculture, as part of the Sustainable Agricultural Land Tenure project, a joint initiative of Drake and the Leopold Center.
Food Law Student Leadership Summit
Drake University Agricultural Law Center co-hosted the second Food Law Student Leadership Summit with the Food Law Student Network Leadership Committee and Harvard Law School's Food Law and Policy Clinic, September 30 through October 2, 2016.
The event brought together more than 80 law students from 50 institutions to learn from policy practitioners, build networks, work on policy solutions for today's pressing food challenges and tour local farms and farmers markets.
Read more on the event from the Food Law Student Network Leadership Committee.
SOIL 2015: Sustaining Our Iowa Land
On November 19 and 20th, 2015, the Agricultural Law Center, in cooperation with the Leopold Center for Sustainable Agriculture, hosted a two-day conference Sustaining Our Iowa Land (SOIL): Past, Present and Future Soil and Water Conservation Policy.
The conference brought together a wide range of individuals and organizations working to protect Iowa's soil and water resources to consider the roles that policy and law play in shaping our stewardship efforts. More than thirty were identified and more than a dozen organizations helped organize the event.
Follow-up to the 2015 conference can be found here. Information about funding and scholarship can be found here.
---
Conferences
National Farmer Veteran Stakeholders Conference
Des Moines, IA – November 14 and 15, 2014
This was the first national forum on programs and services for veterans pursuing careers related to food and agriculture. All stakeholders from the agricultural and veteran communities were invited, including non-profits, businesses, philanthropists, government agencies, trade associations, and educators. More information on the conference is available here.
The Drake Forum: America's New Farmers: Policy Innovations & Opportunities
Washington DC – March 4 and 5, 2010; Johnston, IA – August 16 and 17, 2011; Des Moines, IA – November 8 and 9, 2012
The Drake Forums included panel discussions on obstacles facing new farmers and challenges related to land access, the availability of finance and credit, creating new markets, and implementing the 2008 Farm Bill.
Rural Lands Rural Livelihoods Conference
Using Land and Natural Resources to Revitalize Rural Iowa- September 20 and 21, 2007

The Role of Law in Promoting Sustainable Farming and Rural Development: An International Perspective
Des Moines, IA- October 15 and 16, 2007
The National Workshop on State & Local Food Policy
The National Workshop on State & Local Food Policy was a comprehensive educational event that explored unique topics relevant to state food and agricultural policy . The workshop engaged farmers, non-profit organizations, businesses, academics, and policy makers to share and learn from one another how the U.S. food system can be improved. The workshop offered an extensive line-up of renowned, expert speakers which has attracted participants throughout the U.S., Canada and abroad.
The 2005 National Workshop, supported with funding from the USDA Risk Management Agency, Community Outreach and Assistance Partnership Program, highlighted operational and legal issues related to joint producer initiatives including financing, ownership and risk management techniques. Additionally, the state partners of the 2004-2005 Drake-RMA State & Local Food Policy Project provided reports about issues unique to their respective states.
Food policy council coordinators from Arizona, Georgia, Iowa, Kansas, Maine, Oklahoma, Oregon, Utah, Wisconsin, and the Hopi Nation shared the impacts and outcomes of convening the many stakeholders in food and agriculture that would not otherwise have the opportunity to work together to research, develop and recommend public policy change.
Rural Attorneys & Agriculture Conference
This conference attracted attorneys from across the Midwest to discuss recent developments in agricultural law.